About AAA Self Storage Porirua and Wellington
AAA Self Storage is one of Wellington's oldest and most trusted storage businesses in the Wellington region, having been operating since 1998. We are a locally owned and operated business, and have a friendly team patrolling our facilities 24 hours a day.
Our clean and dry storage units are custom built for a wide variety of storage requirements, and are sound and solid concrete block construction.
One of our major points of difference is - as we are Porirua based, we have lower overheads than our more centralised Wellington competition, and we pass on those savings to you. A further point of difference is that our affordable rates in no way compromise the quality of our storage units, or their ongoing security.
We invite you to book a meeting with one of our onsite managers and experience the difference for yourself!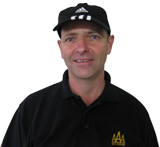 Meet Cliff Macdonald - Human Storage Calculator
Call Cliff on 04 238 9402 and get a free, friendly, and accurate calculation on your storage requirements.
*Wellington and Porirua customers only