Household Furniture Storage
Selling House
Self-storage is now being utilised very early in the house moving process as a means of increasing space in the home while it is being viewed by potential buyers. It is no secret that spacious homes - that are de-cluttered of personal effects and are neutral in taste - are more likely to sell faster than homes that aren't. Homes that have been furnished with just the essentials stand out as being bigger and brighter, and allow the potential buyer to more easily fit their own impression of "Home" into your space and surroundings.
By moving out your less essential furniture and possessions into self-storage - for as little as $50 per month, you could not only sell your house faster, but add thousands to its eventual sale price.
Moving House
Once you have successfully sold your house – self-storage affords you the enormous advantage of giving you the breathing space to make an informed decision when buying you next home. With the money from your old house no longer tied up, you can immediately stake your claim on the home of your choice – without the pressure of having to find a buyer for your existing home, and without having to compromise on the selling price. AAA storage has the most competitive rates for short and long term self storage in Wellington.
Our rates and large range of unit sizes means that you can affordably use a unit that best suits you for as long as you need to make the correct decision. In comparison to the money that can be gained or lost from making the right or wrong decision on purchasing your new home – the cost of self storage is a minor investment to make.
Simply, self-storage is becoming an increasingly indispensable element in making the most of your investment dollar when buying a new home.
Building a new home
AAA Self Storage provides 24 hour - 7 days a week access to your personal items and furniture. This means that you can come as you please and pick up and return your things whilst you are in the process of having your house built.
Storage solutions for students and people going on holiday
From long term OE's to students on their summer breaks, self storage is the perfect solution for people going on holiday needing a place to store their possessions. AAA Self Storage has a variety of units available - from small low rent units perfect for just your valuables, to large units to store all your household goods.
Self-storage is cheaper than keeping your goods in rental accommodation, more secure than your home, and more convenient than at your family or friends houses.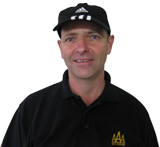 Meet Cliff Macdonald - Human Storage Calculator
Call Cliff on 04 238 9402 and get a free, friendly, and accurate calculation on your storage requirements.
*Wellington and Porirua customers only